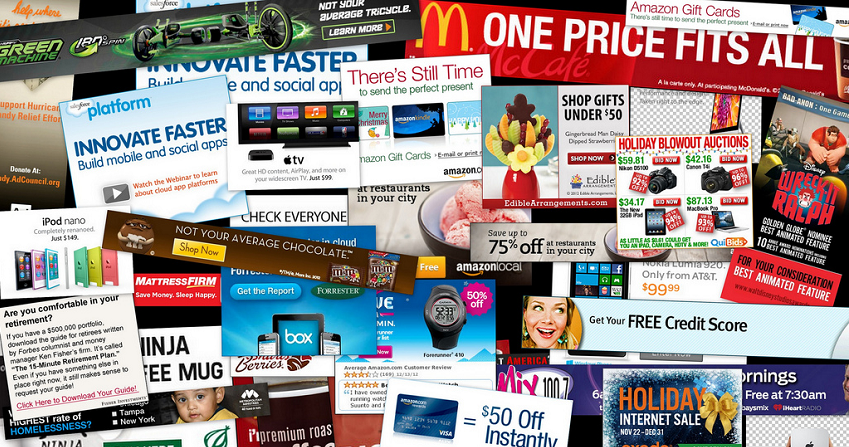 In this post, I offer you a quick introduction to display advertising.
Display advertising is just a poster name for banner advertising. Although display advertising has evolved to include adverts that might not be considered 'banners'.
This would include in-stream, in-feed and other forms of native advertising (don't worry, we'll discuss this term below!)
Display advertising also includes the much talked about remarketing or retargeting advertising. These are the banners that follow you around the internet when you have visited a particular website.
Display advertising matters because it can be a cheap way of generating fairly targeted traffic to your website.
This can be good for building your brand, getting eyes on your content and helping to sell your products or services.
This guide is loaded with useful information that will help convince you of the value of investing in targeted display advertising.
Types of banner ads
The most common banner ad sizes are 468x60, 300x250 and 728x90. This refers to the pixel size of each ad.
If you invest in these three banner sizes, your ads will be eligible to run on countless websites that are accessible via Google Ads.
The most common banner ad size is 300x250. This is also referred to as the 'medium rectangle' or just 'med-rec'. This ad is said to offer the highest click-through rate and highest conversion rate when compared to different ad sizes.
Pro tip: When I create display advertising campaigns, I separate ad sizes out into their own campaigns. Doing so allows me to get a better idea of which ad sizes are performing the best for a particular client.
The below graph lists banner ad sizes that appear across websites selling banner ad space: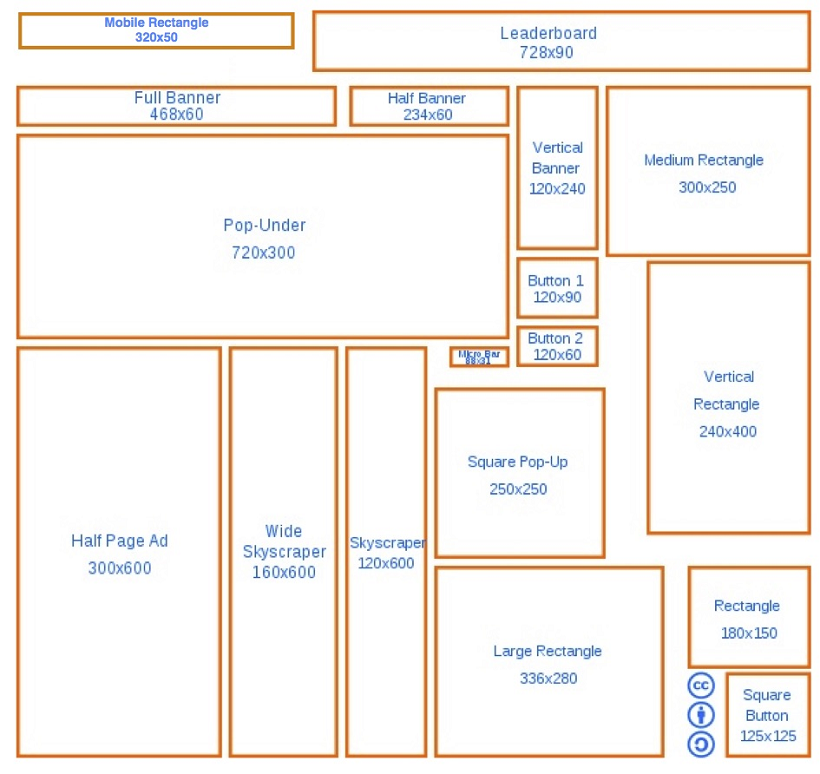 It's important to have banners designed in every one of these sizes.
Why? Because you just don't know which banner sizes will generate the most clicks and conversions until you actually test them against live traffic sources.
Testing banner ad sizes and variations
When you invest in display advertising through AdSmiths, my team will design 3-4 different ads in each size.
Doing so allows us to split test each ad against 2-3 variations so that we can establish a 'control'. The 'control ad' is the one that generated the most clicks or conversions (or both).
If brand awareness is your primary goal, we shall concentrate your budget on ads with the highest click-through-rate.
In contrast, if making a sale is your primary goal, we shall concentrate your budget on ads that generate the highest conversion rate.
Variables we test in display campaigns
Factors that affect the success or failure of a display ad include:
Placement/website where it appears
Ad copy/written text
Call-to-action
Ad imagery
Colours
When designing ads, I also split test ads that both contrast with or complement the website where it will appear. Often, ads that fit in with the rest of the website where it appears will generate a high click-through rate but often produce a poorer conversion rate. This is probably due to accidental clicks.
Why use a professional designer?
When designing banners, it's vitally important to utilise a professional designer.
There are many tools for automatically generating banner ads, such as Google display ad building.  I feel these tools are inferior when compared to the sort of quality you can expect from a professional graphic designer.
So don't cut corners when it comes to display advertising design! To do so could also mean you are wasting your advertising budget.
How to generate display advertising ideas using premium tools
Before you instruct a digital agency to commission a display advertising campaign on your behalf, it's always beneficial to get an idea of what you would like your banners to look like.
At the very least, you need to have an idea of your campaign objectives. This could be lead generation, link building, social metrics or to build brand awareness.
At AdSmiths, I utilise paid-for tools to help us research display advertising campaigns.
Below, I list some of the tools I utilise in helping my clients produce profit-generating campaigns:
How to generate banner ad ideas using free tools
Many of these tools are pricey, so it's useful to also have some free resources that will help you conduct display advertising research.
One tool you can use for free is Moat. You will need to sign up for a free account.
Moat also has a Google Chrome extension. When you are browsing a competitor's website, this extension will show you display ads this website is running across the Internet.
Now I will reveal my favourite way of conducting banner advertising research for free.
This method uses Google image search.
Search Google images for a term that describes your services, and then press TOOLS >> Sizes >> Exactly.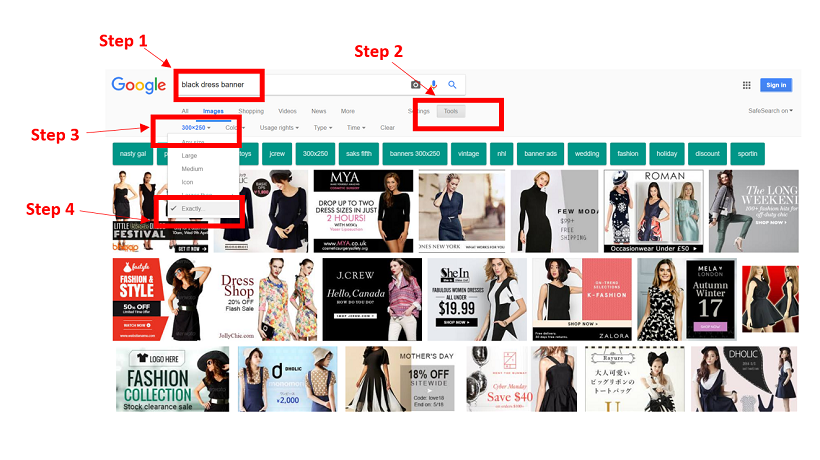 Then you will see example banners in this exact size. as shown above.
I also illustrate this process for the 728x90 size banner below: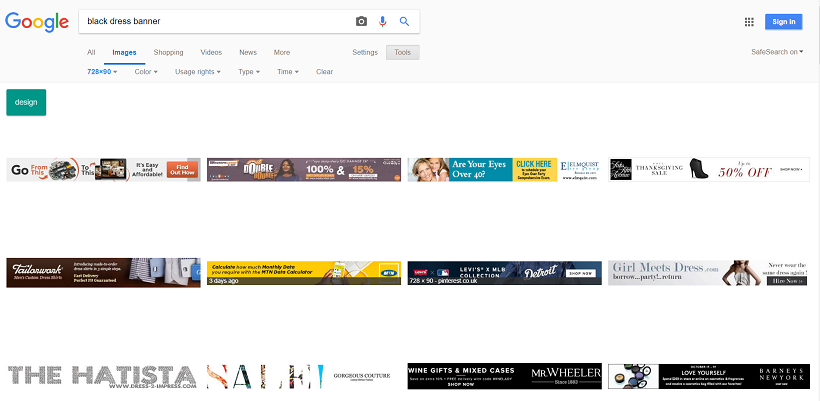 Save the web address of the banners you like. This primary research will help get your display advertising campaign off to a winning start.
Setting up a display advertising strategy
Google offers the world's biggest display advertising network. Here, you will find thousands of quality websites for your banners.
Another mammoth display traffic source is Facebook. It's thus essential for many businesses to invest in Facebook advertising. This is especially true when it comes to Facebook remarketing ads.
Some high-volume websites do not offer their inventory via an ad network. Here, you must pay the website directly. This is known as a direct buy. You will buy an agreed number of impressions. Your ads will also be given a set flight date via an insertion order.
The Daily Mail is an example website that works on this basis.
Google's self-serve platform
Google has developed what's known as a self-serve platform. This effectively cuts out 'flight dates,' 'insertion orders' and other such jargon.
With Google's self-serve platform, your display ads can be up and running in minutes rather than days.
Google's platform also allows you to show your ads on thousands of websites within minutes. Alternatively, you can restrict your targeting so that your ad only shows on a handful of highly targeted placements.
You can read Google's official guide to display ad sizes here.
As mentioned above, it's important to create an ad group serving each of these sizes. This allows you to determine which ad size pulls the best click-through-rate and conversion rate.
What about native advertising?
Native advertising is a buzzword you have probably come across. Native ads are designed to blend with rest of the host website's content.
This is why these ads are called native ads. Traditionally, these ads were called advertorials because they were designed to look like editorials in newspapers and magazines.
Editorials are at least 100 years old, so this is nothing new.
Advertising networks offering native ad space include Taboola, Outbrain and RevContent. These ads are perfect for promoting your content.
Below, I include a screenshot of native ads appearing on the Liverpool Echo's website: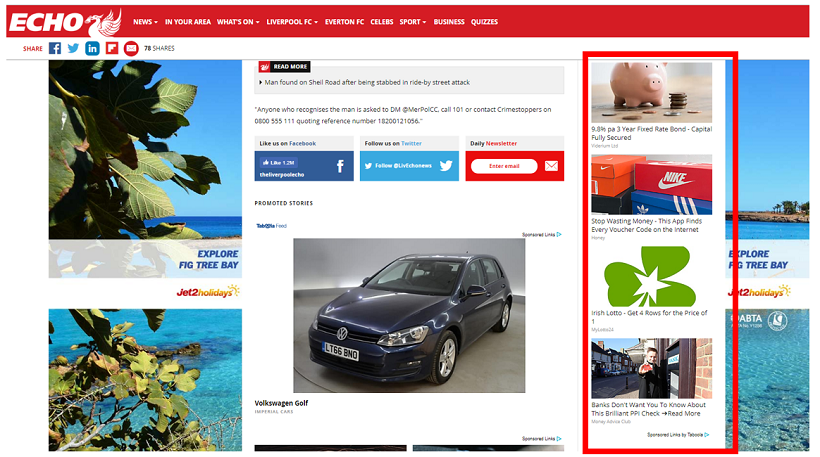 These ads are well known for utilising attention-getting images and headlines, known as click-bait . Remember, host-websites don't get paid unless somebody clicks on your ads.
These ads are particularly good if you are also investing in a content marketing strategy.
We appreciate that many businesses won't have the budget to invest in ads of this nature.
But also remember that these ads do have the potential to drive a lot of consumer-traffic to your website at a low cost (clicks can be bought for as little as .01 each).
Getting help from the professionals
At AdSmiths, I have been creating display advertising campaigns for many years. To benefit from my own and my team's expertise, contact me today on 0151 355 0916 or submit an enquiry through this website.