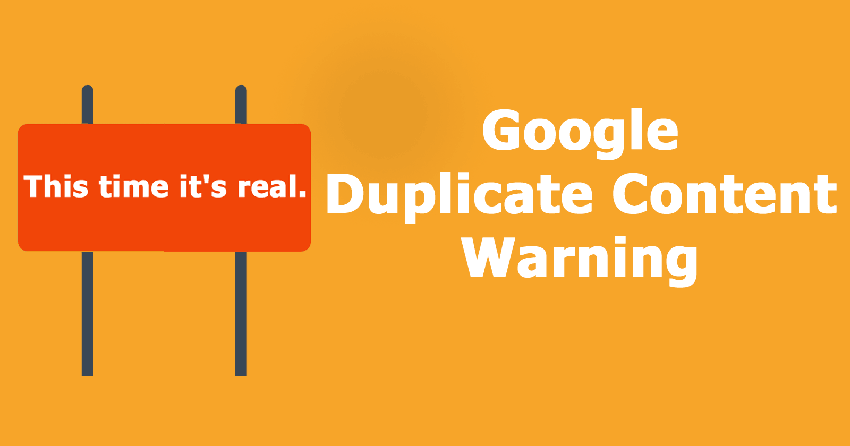 Millions of websites are riddled with duplicate content. Many of you will have duplicate content on your website without your knowledge. We offer a free SEO audit, and you would be surprised by the number of websites we audit that do not rank merely due to duplicate content issues.
For years, Google has penalised websites for hosting duplicate content. You thus want to find and correct duplicate content issues without delay.
One of the main reasons for duplicate content appearing on your website is because the person or agency who created your website simply neglected to write unique content.
If this is the case, blame yourself. After all, it's your website! The buck must stop with you.
Many websites cost in the region of £2000 to design and build, and it's often the case that web agencies simply feel uneasy about asking their clients for yet more money to invest in content.  
Another major cause of duplicate content is when an e-commerce store owner will simply upload thousands of product pages using the manufacturer's content. This is something you simply cannot afford to ignore. Sure, this will take a lot of time to fix, but if you wish to rank in Google, the effect will be well rewarded.
Google defines duplicate content as 'blocks of content within or across domains that completely match or are similar'.
The words 'within' domains is significant. This means you cannot simply copy the same content across your website and then merely change the page title and the header titles in the hope that you can rank pages for multiple keywords using just one piece of content.
The risks of having duplicate content on your website
Google says duplicate content makes up over 30% of the Internet. Because it costs money for Google to crawl the Internet, it's logical that Google will penalise websites that are contributing to the problem.
The penalty is usually in the form of simply not ranking the offending content. However, large amounts of duplicate content could result in your entire website becoming penalised in Google. This is often known as a Panda Penalty. Panda was the surname of the Google engineer who designed the original duplication penalty algorithms back in 2010.
Another reason why duplicate content is frowned upon is that it offers no value or expertise to the internet. If you are an expert in your industry, don't copy other's content because you will be committing plagiarism and you could also open yourself up to copyright infringements.
When it comes to creating any form of content for your website, that content must be unique and of the highest possible quality.
In fact, we feel it's best to have in place a medium-term content strategy. Your content needs to be long-form and it also needs to provide thorough answers to your audience's questions. It's also desirable that your content utilised schema markup to increase the odds of it appearing in Google 'Search Snippets'.
How to solve a duplicate content problem
If your website is small, it's likely that you won't need to do much to fix the problem. Open each page of your website and then take a snippet of each page's content and search for the content in Google. Ensure the search query is surrounded by double quotation marks.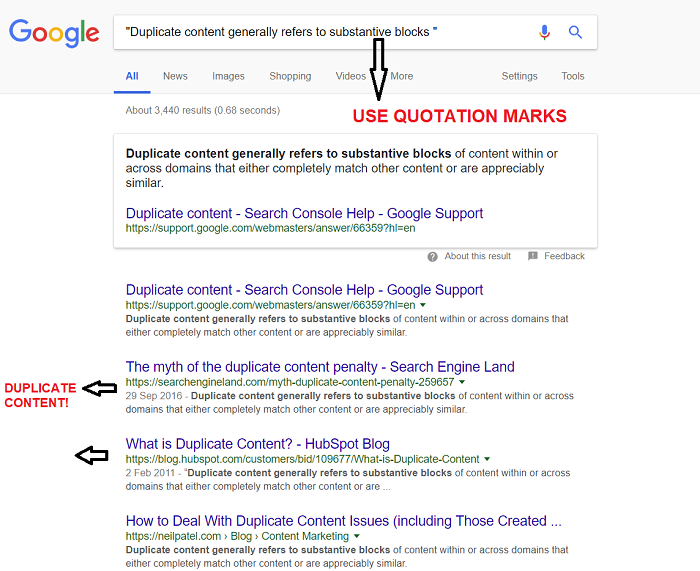 If Google returns results for domains other than your own, then you know that your website is harvesting duplicate content.
If you own a large website such as an e-commerce store, then it is likely you will need to formulate a duplicate content strategy. Doing so will help you keep tabs on the number of pages that need re-writing. Because of the sheer size of the job, it's also likely that you will need to enlist the assistance of multiple content writers to get the job completed within a reasonable timeframe.
How to identify duplicate content
Below, we list several ways to locate duplicate content on your website:
Use a tool such as CopyScape to locate duplicate content
Use Google Search Console to see if Google has flagged duplicate content (under Search Appearance >> HTML Improvements)
Paste your content into Google to see if any other websites host the same information
How we tackle duplicate content at AdSmiths
At AdSmiths, we typically spider your website with a tool such as Screaming Frog. This allows us to list each page of your website in Excel. We then go about testing each page for duplicate content. If duplicate content is found, we mark this fact on the same Excel sheet. This effectively allows us to turn a duplicate content audit into a duplicate content plan.
Our SEO experts will work in tandem with content writers to ensure your entire website is cleared of duplicate content.
Reporting on success
Before you fix duplicate content, it's important to track where in Google your website ranks for all its major keywords. This allows you to establish whether duplicate content fixes resulted in keyword ranking improvements. It's also important to keep track of raw traffic improvements through Google Analytics, so ensure Google Analytics is implemented on your website before you make any changes whatsoever.
Claiming a free duplicate content audit
AdSmiths offers a free duplicate content audit. We conduct many of the recommendations we mention above, plus a lot more. When you opt for this free audit, you will know whether your website is losing valuable traffic because of duplicate content.
If we determine duplicate content is an issue, we shall then give you an idea of what needs to be done to fix the problem. You can then either fix the problem yourself or opt for our paid-for content writing service. This service also includes a substantial SEO element. You can claim your free audit by contacting us on 0151 355 0916 or by submitting the contact form on this website.